Arcift Technologies is one of the top web application development company which provides Web Application Development and Design with business-enhancing features; our applications come with cross-platform compatibility (Windows, Mac, Linux, etc.) and can easily be integrated with other web portals via API's.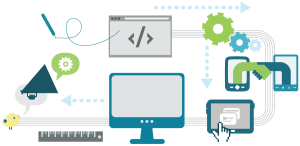 We help our customers achieve their desired products by understanding their requirements in depth, analysing and developing professionally. Our designed & developed web applications facilitate customers with seamless work flow, easy to manage and monitor.
Arcift has developed many simple and complex web Applications & websites that are efficient, more interactive and professional, that deliver rich and enhanced user experience and are critical to reduce time & development Cost.
Why Choose Arcift?
Professional business / ecommerce web design
Business applications
Corporate level tools
POS Software
Advanced web and enterprise portals
We support latest web technologies such as Ruby or Rails, PHP, MySQL etc to develop custom web applications that help facilitate both B2B and B2C interactions for our customers. We also use a number of advanced web application development tools to provide integrated, cross-platform, cross-browser solutions to our customers. We are expert in using open source frameworks to develop web applications; making applications cost effective.
To know more about Arcift, Contact Us.
To get a quote for your Web Application project, Click Here.